Hi to all. I try to send image with other data from android application to webservice.
I am create REST WebService and create function to receive and write data into database.
My android form look like this: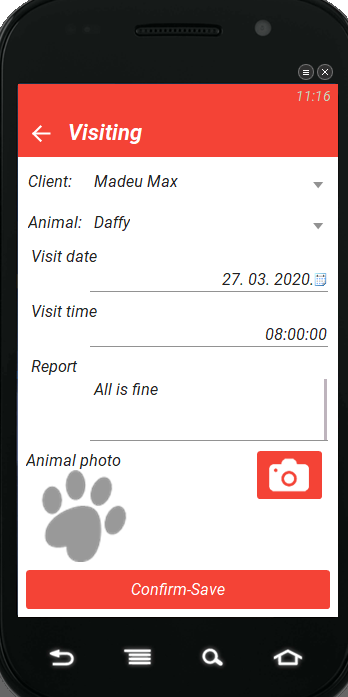 After click on "Confirm-Save", I start this code:
sRecordContentInJSON is ANSI string
sAnimalPhoto is ANSI string = Encrypt (IMG_Photo, "", cryptNone, encodeBASE64)
vPassage is Variant
vPassage.AnimalID = COMBO_Animal..StoredValue
vPassage.ClientID = COMBO_Client..StoredValue
vPassage.DatePassage = EDT_Visit_Date
vPassage.TimePassage = EDT_Visit_Time
vPassage.VisitorID = gnUserID
vPassage.VisitReport = EDT_Visit_Report
//vPassage.Photo = bufAnimalPhoto
vPassage.Photo = sAnimalPhoto
sRecordContentInJSON = VariantToJSON (vPassage)
maReq is httpRequest
maRep is httpResponse
maReq.URL = gsIPAdresa + "PassageAdd"
maReq..ContentType = "application / json"
maReq.Content = sRecordContentInJSON
maReq..Method = httpPost
myRep = HTTPSend (myReq)
IF ErrorOccurred THEN
Error (ErrorInfo (errFullDetails))
ELSE
IF myDir.DescriptionStatusCode = "OK" THEN
ToastDisplay ("Passage is added with success", toastShort, vaMiddle, haCenter)
ELSE
ToastDisplay (myRep.DescriptionStatusCode + "Problem. Something is wrong", toastShort, vaMiddle, haCenter)
END
END
On REST service my procedure do this:
PROCEDURE AddPAssage ()
sRecordContentInJSON is ANSI string = WebserviceParameter (paramBuffer)
vRec is Variant = JSONToVariant (sRecordContentInJSON)
HReset (Passage)
Passage.AnimalID = vRec.ClientID
Passage.ClientID = vRec.ClientID
Passage.DatePassage = vRec.DatePassage
Passage.TimePassage = vRec.TimePassage
Passage.VisitorID = vRec.VisitorID
Passage.VisitReport = vRec.VisitReport
Passage.Photo = Decrypt (vRec.Photo, "", cryptNone, encodeBASE64)
HAdd (Passage)
RESULT "OK"
Everything is fine except I can not send image. I get empty field "Photo".
Please, can you help me to complete this code so I can send images over webservice.